Menus
Our menus have a new look!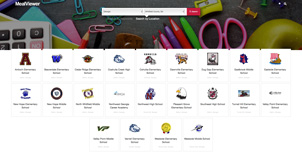 Use the MealViewer to find the Northwest Georgia College and Career Academy's menus with information about nutrition and allergens.
Apps are also available for iOS (link) and Android (link).
Free and Reduced Meal Applications
Free and Reduced Meal Applications are available on-line. Go to the Whitfield County School website at http://wcs.whitfield.k12.ga.us/ or www.lunchapplication.com to access the on-line application. Paper copies will be available at the beginning of school. You are encouraged to complete an application if you think your children may qualify. ONLY ONE APPLICATION PER HOUSEHOLD NEEDS TO BE COMPLETED, LISTING ALL SCHOOL AGE CHILDREN ON THE FORM.
2015/2016 MEAL PRICES
Student Adult
Elementary Breakfast Free $1.75
Elementary Lunch $2.00 $3.00
Middle/High Breakfast $1.25 $1.75
Middle/High Lunch $2.25 $3.00
Extra Milk .50
Reduced Breakfast .30
Reduced Lunch .40
On-Line Payment Option
Parents are able to pay for student meals with cash, money order, or check. Beginning SY2015-2016, Whitfield County Schools Nutrition Department is excited to offer a new On-Line Prepay system.
This new payment option will not replace cash and check payments, but is an additional payment option for your convenience. Features offered by the on-line solution are:
See your student's meal balance at anytime from anywhere

Deposit payments for multiple students in just one click

Setup recurring payments for monthly or weekly deposits

Reviewing individual student meal histories

Automated notifications via email or text when your student's balance falls below an amount you choose
Go to: www.K12PaymentCenter.com to setup your child's account. You will need your child's Student ID number to setup an account. If you do not know your child's Student ID number you may contact your child's cafeteria manager.
Charges
Students have a limited charge privilege. If a student arrives at school without money, they are allowed up to 5 days of charges. If a child arrives at school without money for lunch and has reached the charge limit, he/she will be provided an alternate meal (such as a cheese sandwich and milk). Charge letters will be sent home with the students to notify parents of charges at the first negative balance and the alternative meal policy. Charges are not allowed for extras or ala carte items. Parents will be able to pay for student meals with cash, money order, check or online at www.k12paymentcenter.com.